You can enchant your costume in Prontera town.  There are 2 NPC responsible for enchanting: Aver De Dosh and Lace La Zard.
Aver De Dosh (prontera 165, 63) can enchant your upper, middle and lower headgear costumes and Lace La Zard (prontera 165, 66) for your garment costume.  Enchantment has 50% success chance. If it fails, only the stone will vanish while the costume remains.
A costume's enchant may be changed by re-enchanting it with a new stone.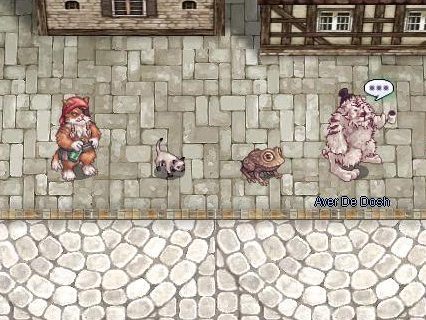 Exchanging from stones to Enchant Stone Box?  Katnipped (prontera 165, 69) will accept enchant stones in exchange for Enchant Points, which then you can use to exchange for Enchant Stone Box of your choice.
Also, Heidam will trade 1 costume into 1 Cash Envelope that contains random amount of Cash Points.
Slot
Enchant Stone
Stats
Head
(Upper)
STR Stone (Upper)
STR + 1
AGI Stone (Upper)
AGI + 1
INT Stone (Upper)
INT +1
VIT Stone (Upper)
VIT + 1
DEX Stone (Upper)
DEX + 1
LUK Stone (Upper)
LUK + 1
CRIT Stone (Upper)
Crit + 1
ATK Stone (Upper)
ATK + 1%
MATK Stone (Upper)
MATK + 1%
ASPD Stone (Upper)
ASPD + 1
Large Stone (Upper)
Increases physical damage on Large size targets by 1%.
Medium Stone (Upper)
Increases physical damage on Medium size targets by 1%.
Small Stone (Upper)
Increases physical damage on Small size targets by 1%.
Recovery Stone (Upper)
Increases the recovery rate of recovery skills and recovery items by 2%.
Recovery Skill Stone (Upper)
Increases the recovery rate of recovery skills by 3% (ArchbishopLv1).
HP Absorption Stone (Upper)
Adds a 1% chance of restoring 3% of damage as HP when performing a physical attack.
SP Absorption Stone (Upper)
Adds a 1% chance of restoring 1% of damage as SP when performing a physical attack.
Reload Stone (Upper)
Reduces global delay of skills by 1%.
Variable Casting Stone (Upper)
Reduces variable cast time by 3%.
Fatal Stone (Upper)
Increases critical damage by 3%.
Head
(Middle)
STR Stone (Middle)
STR + 1
AGI Stone (Middle)
AGI + 1
VIT Stone (Middle)
VIT + 1
INT Stone (Middle)
INT + 1
DEX Stone (Middle)
DEX + 1
LUK Stone (Middle)
LUK + 1
HP Stone (Middle)
Max HP + 1%
Stamina Stone (Middle)
Max HP + 50
SP Stone (Middle)
Max SP + 1%
ATK Stone (Middle)
ATK + 1%.
MATK Stone (Middle)
MATK + 1%.
Recovery Stone (Middle)
Restores 10 HP to the user every 10 seconds.
Def Stone (Middle)
DEF + 20.
Reload Stone (Middle)
Reduces global delay of skills by 1%.
Variable Casting Stone (Middle)
Reduces variable cast time by 3%.
Range Stone (Middle)
Increases long-ranged damage on targets by 3%.
Critical Stone (Middle)
Increases critical damage on targets by 3%.
STR Exchange Stone (Middle)
STR + 3, INT - 3
AGI Exchange Stone (Middle)
AGI + 3, LUK - 3
VIT Exchange Stone (Middle)
VIT + 3, AGI - 3
INT Exchange Stone (Middle)
INT + 3, DEX - 3
DEX Exchange Stone (Middle)
DEX + 3, VIT - 3
LUK Exchange Stone (Middle)
LUK + 3, STR - 3
Head
(Lower)
ATK Stone (Lower)
ATK + 1%
MATK Stone (Lower)
MATK + 1%
HIT Stone (Lower)
HIT + 1
FLEE Stone (Lower)
FLEE + 1
Magic Stone (Lower)
SP + 10
Recovery Stone (Lower)
Restores 1 SP to the user when a monster is killed by a physical or a magical attack.
HP Stone (Lower)
Max HP + 1%
Mdef Stone (Lower)
MDEF + 4
Reload Stone (Lower)
Reduces global delay of skills by 1%.
Variable Casting Stone (Lower)
Reduces variable cast time by 3%.
Health Stone (Lower)
Max HP + 100
SP Stone (Lower)
Max SP + 50
Greed Stone (Lower)
Enables use of Level 1 Greed.
Kyrie Stone (Lower)
Enables use of Level 1 Kyrie Eleison.
Detoxify Stone (Lower)
Enables use of Level 1 Detoxify.
Recovery Stone (Lower)
Enables use of Level 1 Status Recovery.
Identify Stone (Lower)
Enables use of Level 1 Item Appraisal.
Heal Stone (Lower)
Enables use of Level 1 Heal.
Teleportation Stone (Lower)
Enables use of Level 1 Teleport.
Steal Stone (Lower)
Enables use of Level 1 Steal.
STR Exchange Stone (Lower)
STR + 3, DEX - 3
AGI Exchange Stone (Lower)
AGI + 3, STR - 3
VIT Exchange Stone (Lower)
VIT + 3, LUK - 3
INT Exchange Stone (Lower)
INT + 3, VIT - 3
DEX Exchange Stone (Lower)
DEX + 3, AGI - 3
LUK Exchange Stone (Lower)
LUK + 3, INT - 3
Garment
Stone ASPD (Garment)
ASPD +1
HP Absorption Stone (Garment)
5% chance to absorb 3% physical damage into HP
SP Absorption Stone (Garment)
5% chance to absorb 3% physical damage into SP
ATK Stone(Garment)
ATK +5%
MATK Stone(Garment)
MATK +5%
Double Attack Stone (Garment)
Enables the use of Double Attack Lv.3
*Can cast higher skill level of Double Attack that is learned
Critical Stone (Garment)
Increases critical damage by 10%
Variable Casting Stone (Garment)
Reduces variable cast time by 5%